About CLEANWRAP Interior Protection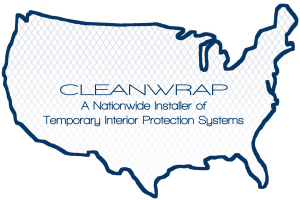 CLEANWRAP Interior Protection is a nationwide installer of Temporary Interior Protection Systems. Our team of estimators and installers is experienced and qualified to meet your and your client's interior protection needs throughout the United States. We understand you have several options in selecting an Interior Protection contractor. Our years of experience in the construction, roofing, and interior protection industries allow CLEANWRAP Interior Protection to offer you peace of mind as no other interior protection company can.
CLEANWRAP Interior Protection improved Temporary Interior Protection Systems by more fully reducing our client's risk through a commitment to safety and quality. After all, what good is an Interior Protection system if your risk isn't reduced because your contractor cut corners?
CLEANWRAP Interior Protection is dedicated to safely meeting our customers' interior protection needs and providing the highest quality of customer service while maintaining competitive pricing.
Our customer's safety is always our highest priority. While some interior protection companies are willing to take actions that increase their client's risks, CLEANWRAP Interior Protection is committed to exceeding industry safety standards and training. All of our employees are extensively trained and OSHA-certified. At CLEANWRAP Interior Protection, safety is always our primary priority.
Our Initiative
As part of our commitment to safety, CLEANWRAP Interior Protection founded the North American Interior Protection Contractors Association. The NAIPCA is open to all interior protection contractors who have demonstrated a dedication to safety in the industry. THE NAIPCA strives to educate the roofing industry about the benefits and applications of interior protection, dealing with debris as well as promoting an environment of safety and quality.
CLEANWRAP Interior Protection's techniques have proven time and again to be the best approach for constructing Suspended Ceilings, Construction Wall Barriers, High Structure Cleaning, custom applications, and partition walls designed to keep contaminants out of the working environment.
After all, hanging tarps can only do so much. When your reputation is on the line, don't you want peace of mind knowing that you have partnered with a trustworthy Interior Protection contractor? CLEANWRAP Interior Protection offers you peace of mind through our temporary interior protection systems.  Please call us today for a quote.