Temporary Roof Covers – CLEANWRAP™
Temporary Suspended Ceilings
When it comes to assessing a re-roofing project, there are many challenges. Each facility, be it a manufacturing plant, hospital, school, warehouse, retail store, office space, or any commercial establishment or production facility, is different, and so is its roof. However, one invariably overlooked challenge is how the interiors of the facility are affected when the re-roofing or remodeling is going on outside.
Potential contaminants, including ceiling debris, dust, metal shavings, dirt, and shards of the roof deck, can easily get inside. Many commercial/industrial roofing contractors have realized from experience that professionally installed dust and debris containment is worth the time and investment, much like an insurance policy. Food, beverages, pharmaceuticals, or other sensitive products being manufactured, stored, or displayed, can be contaminated by roofing dust and debris.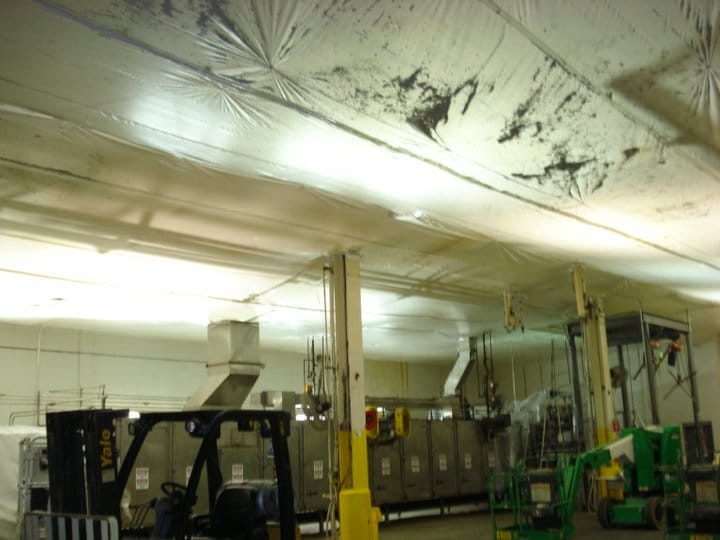 Besides the products, the expensive equipment, systems, and people inside the building are also affected by the debris falling from the ceiling. An effective solution to these challenges is a temporary ceiling cover that allows the work to continue safely without disrupting operating schedules, thus preventing shutdowns and loss in production. With a higher strength-to-weight ratio, a temporary ceiling is a great option when temporary works are required for the safety of the client's assets below while ensuring downtime is to a minimum.
In recent years, more awareness of the harmful dust and debris on construction projects means more action needs to be taken to protect your workers from harmful dirt, easily avoidable with the correct solution. They can also be used as a temporary ceilings for basement and warehouse ceiling covers.
Temporary Suspended Ceilings are an important factor in containing debris usually during a re-roofing project.  Probably the most important concept of the temporarily suspended ceilings is the ability to contain dust and debris and not shut down production.