Drop Ceiling | Suspended Ceiling | Ceiling Tiles – CleanWrap
Suspended Ceilings
Suspended Ceilings are an important factor to consider when creating the right atmosphere and ambience for your workplace and that of visiting clients or people. A well thought out and designed ceiling installation can not only look great and create a good impression but a good ceiling installation can also improve the working conditions for staff too which can help increase their productivity!
Want to cover up a maze of electrical wires, plumbing lines and heating duct in the basement? The best solution we know is a suspended or drop ceiling that incorporates 24-inch square or 24- by 48-inch panels in a metal grid. A suspended ceiling is also used to lower or level and existing ceiling often a concern in large older homes.
The metal grid is permanently fastened to an old ceiling or from exposed floor joists; the ceiling panels are then placed in the grid. That means a damaged panel can be quickly and easily replaced, and it's no trouble to access the lines and wires for repair work. Compared to a permanent drywall ceiling, this removability factor is a plus.
The foundation of any interior protection system is a high-quality Suspended Ceiling. CLEANWRAP™ Interior Protection uses reinforced engineered poly film and innovative installation methods to prevent dust and debris contamination during re-roofing and remodeling projects. CLEANWRAP™ Interior Protection's suspended ceilings are installed before the roof replacement or repair begins, remain in place throughout the project, and are removed upon completion. Therefore providing our customers valuable uninterrupted interior protection and peace of mind from roofing debris.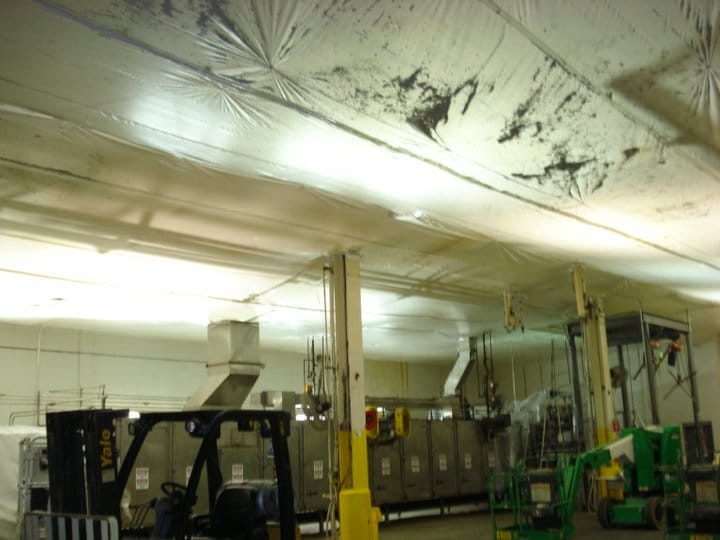 CLEANWRAP™ Interior Protection's Suspended Ceilings offer our clients security against roofing debris by creating a dust and debris containment barrier. When your company simply cannot risk dust and debris contamination, CLEANWRAP™ Interior Protection's suspended ceilings are the answer. The installation of a suspended ceiling allows day-to-day operations to continue while protecting employees, machinery, and processes from roofing debris and dust. During re-roofing projects, dust and debris contamination cannot be risked – temporary Interior Protection is the trusted solution.
CLEANWRAP™ Interior Protection (About Us) has years of experience and crews professionally trained specifically to install and remove dust and debris containment systems in all sorts of challenging environments. For more information on how CLEANWRAP™ Interior Protection's Suspended Ceiling applications can work for your company by limiting the infiltration of roofing dust and debris, contact us by calling 888-597-3334 or by sending an email to [email protected]
Our Other services include Construction Wall Barriers, High Structure Cleaning and various other types of custom applications.